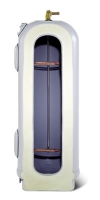 If you want peace of mind when it comes to hot water, check out a Marathon Water Heater. The Marathon Water Heater is the most energy efficient electric water heater on the market providing safe, economical hot water. It's durable, and environmentally friendly and will provide you with years of dependable service. Best of all you can get a Marathon water heater at any one of our local offices through our lease program or our retail program.
Lease up to a 50 gallon Marathon for $12 per month or an 85 gallon or larger for $15 per month.
Visit Marathon Water Heaters for product information.
Call North Arkansas Electric Cooperative - (870) 895-6245 - today for more information on leasing or owning your very own Marathon Water Heater.
Marathon Specifications

| Type | Model Number | First Hour Rating G.P.H. | Tank Height | Height to Water Connection | Diameter | Approx. Ship Wt. | Energy Factor | Estimated Yearly Clost |
| --- | --- | --- | --- | --- | --- | --- | --- | --- |
| 30 Tall | MR30245 | 42 | 49 | 53 | 21-5/8 | 75 lbs. | .95 | $555 |
| 40 Tall | MR40245 | 52 | 61-1/2 | 65-1/2 | 21-3/4 | 90 lbs. | .95 | $555 |
| 50 Tall | MR50245 | 61 | 62-3/4 | 66-3/4 | 23-1/2 | 100 lbs. | .95 | $555 |
| 50 Short | MSR50245 | 54 | 43-1/4 | 47-1/4 | 28-1/4 | 95 lbs. | .95 | $555 |
| 85 Tall | MHD85245 | 91 | 66-1/4 | 70-1/4 | 28-1/4 | 134 lbs. | - | - |
| 105 Tall | MHD105245 | 104 | 66-3/4 | 70-3/4 | 30-1/4 | 152 lbs. | - | - |