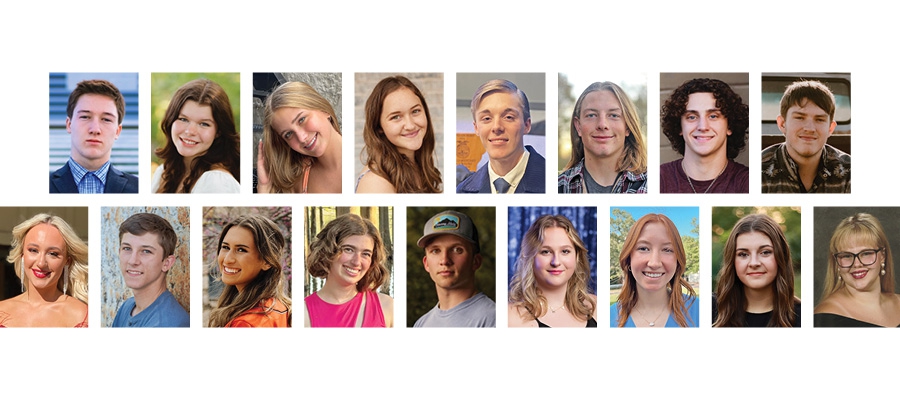 Aug. 28, 2023
17 grads earn scholarships through Operation Round Up
North Arkansas Electric Cooperative's Operation Round Up® program awarded scholarships to 17 recent high school graduates.
Three students — Daniel Jones, Noah Stevenson and Allison Webber — each will receive $1,000 toward their college education annually for up to four years. Fourteen students will receive one-time scholarships of $1,000. They include:

Hunter Bahr
Sophia Baker
Sierra Balentine
Savannah Chance
Colton Cooley
Isaiah Kemp
Peyton Love
Madalyn Miller
Blake Moody
Ava Pendarvis
Trevi Sheaner
Maggie Thompson
Aniston Williams
Audrey Young
High school seniors may apply for the next round of scholarships beginning Feb. 1. The application will be posted on the scholarship webpage and available through high school counselors.
Members can help fund future scholarships by enrolling their electric accounts in Operation Round Up. Participants agree to have their monthly electric bills "rounded up" to the nearest dollar. For example, a bill of $95.60 would become $96. To enroll, fill out the form on the Operation Round Up webpage or call 870-895-3221 during business hours.
Donations are placed in a trust and administered by a five-member independent board of community leaders. The volunteer board evaluates all requests and determines how Operation Round Up funds are distributed.
Since its inception, more than $224,000 in college scholarships, grants to community organizations and disaster relief has been awarded.
In July, the board also awarded $1,000 to the Fulton County Master Gardeners for the Salem tulip display and $1,000 to the Pineville Volunteer Fire Department to go toward a new water pump.
Nonprofits can download the application on the Operation Round Up webpage.