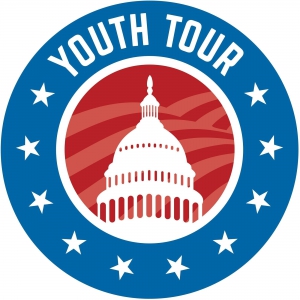 2021 Youth Tour goes virtual
The Youth Tour to Washington, D.C., was canceled for 2021, but North Arkansas Electric Cooperative and the state's other electric cooperatives will provide a web-based opportunity for select high school juniors in June. The event will allow participants to engage with state and federal elected officials and learn about the cooperative business model as well as the importance of public service.
This virtual experience will consist of:
Learning about electric cooperatives and the cooperative business model;
Hearing from lawmakers on Capitol Hill and the Arkansas State Capitol;
Hearing from Arkansas business, education and faith leaders on the pandemic and related processes in Arkansas;
Electing a Youth Leadership Council representative to NRECA's YLC program;
Interacting with each other virtually; and
Learning how students could earn a $5,000 college scholarship by planning and executing a public service project in the local community. (Students will not be required to perform a project to participate in Youth Tour.)
The virtual experience will be conducted via Zoom in a two-hour time slot June 18 and June 21-25. Each session will be recorded and shared with students who might be unable to attend a live session. To keep students engaged, gift cards will be offered each day to students who can answer trivia questions regarding the content covered.
Applicants must be high school juniors during the 2020-2021 school year, and their parents or guardians must be NAEC members. Deadline to apply was April 12.
Winners of the 2021 Youth Tour each will receive a $250 scholarship. A check will be mailed directly to the winner's accredited college or vocational/technical school after they graduate.
For more information, please contact Tori Moss at 870-895-6210 or tmoss@naeci.com.